I did more in the month of May than I sometimes do in an entire season.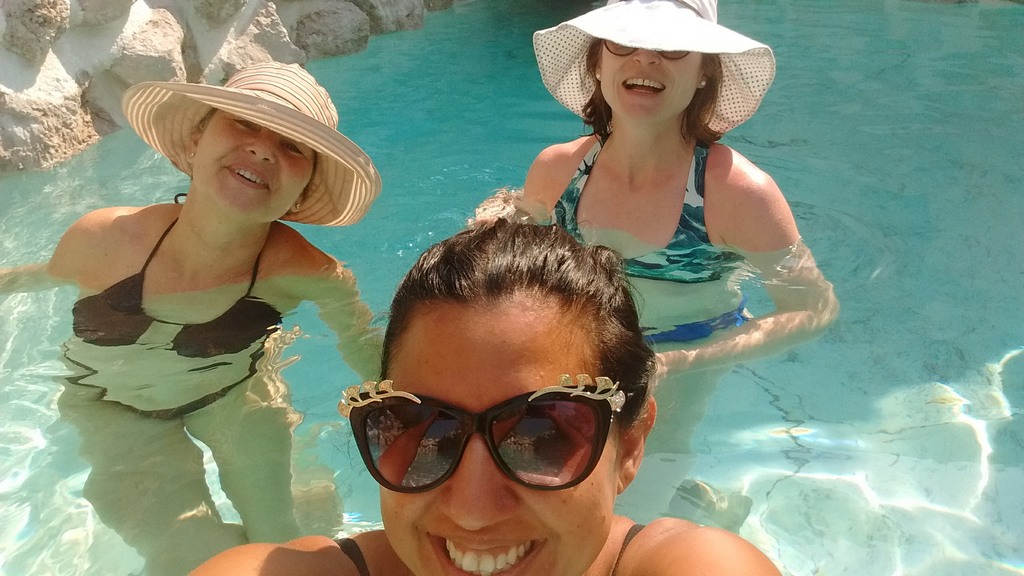 After an incredible writing retreat in San Miguel de Allende, which you can read about here, I stopped in San Diego for a day before driving home to Mammoth. Sometimes I think about flying down to LA or San Diego, but then I'd miss eight hours of getting to listen to any audiobook I want and I relish the alone time to do just that. I've finished Octavia Butler's Parable of the Talents and Parable of the Sower recently and listened to Amanda Palmer's, The Art of Asking on this most recent trip. I liked her book so much in audio form that I bought the paperback so I could re-read it at my leisure. Highly recommend.
I got home from the Mexico trip on a Thursday evening. Friday was just trying to take a whack at the house and what needed to be put back in order. On Saturday morning Eric had a training with the local Search and Rescue Team and the girls and I went to help my friend, Rosanne, set up her tables for the Mad Hatter's Tea, benefiting the Mammoth Lakes Repertory Theatre.
After helping Rosanne set up for her event, she helped me set up this quilt. I needed to hang it in advance of that night's gala fundraiser for the local elementary school. She helped me mount the hooks and made sure it hung straight. Thanks, Rosanne!
I rushed home from table setting and quilt hanging but not before buying some groceries for our babysitter who was coming over. She was going to stay the night so that Eric and I could stay at the hotel of the gala we were attending. It was the first night we've had away from our kids in FIVE YEARS.
The theme of the gala was 'speakeasy,' and while I had fun, I was far more stoked on the thought of not going home to parenting responsibilities but to a hotel room with my husband, alone, for the fist time in FIVE YEARS.
We haven't met a lot of people since moving here, but the people we have befriended are quality. I'm glad I know them. This is me and Rosanne.
Rosanne, me, Tania, and Tania's mom (looking fly, right?!)
So like I was saying, the last time we'd had a night without children was five years ago. I was so excited for the mini break I couldn't stand it. After a little bit of dancing, Eric and I bailed and headed for our room.
This is the proverbial post-coitus photo only instead of a cigarette I ordered french fries from room service instead. So good. All of it. So good. Also, when we did go to sleep, we slept the sleep of the dead.
The next morning we had breakfast and all we could talk about was the kids (classic) and how weird it was that the kids weren't there. Then we relieved our amazing babysitter and Eric started packing the car for a camping trip. He was taking the girls on a 7-10 day overland trip in his Land Cruiser. While they packed, I drank coffee and got dressed up for my next and final event of the weekend.
Not only did I get to help set up for the Mad Hatter Tea, I got to attend too.
How awesome is this fascinator? Found it online from a vintage seller on Etsy.
Rosanne was at the gala the night before. She too pulled a quick change artist and showed up as the Dutchess of her two tables looking amazing. Look at her hat. LOOK AT HER SHOES.
When I got home from the weekend of festivities the house was quiet. Eric and the girls were headed to the Mojave Desert for an adventure and I was looking at about a week of the house to myself.
A lot of firsts had just happened to me: first official writing retreat, a night alone with my husband for the first time in five years, and then I was about to have an entire week on my own. Is this real life, I wondered.
Indeed it was real life.
I stopped by the grocery store and got a bunch of 'Charlotte food.' Stuff like brie and feta, fresh veggies, pita, hummus, olives, and turkey. I had wine and chocolate so I didn't really need anything else. With my supplies in order, I hunkered down for a week of being an absolute hermit.
I work from home so after getting my work job hours done, I wrote. I continued the telling of the story of how Eric and I met and how we came to buy a sailboat and raise our family aboard. Interspersed with the writing, I did push ups, and forced myself to leave the house at least once a day. I'm glad I made myself get out because I became deeply immersed in my writing world. In the six days that they were gone I wrote 24,000 words about our story, putting me at a total of 62,000. That's well within striking distance of a memoir. If I had to guess, I'd say I have another 20-30,000 left to write. I'm so close to having a complete first draft that I can taste it.
I loved re-reading my old MySpace journals (I copied them before deleting that account) and looking back at photos that were over 12 years old of me and Eric. In my head I was finally able to connect the dots from the beginning to the 'end' of our story. Of course, we're not over, but I have the telling of Rebel Heart firmly in a timeline in my head. Now I'm just spitting it out as fast as I can before I go back and do the even more laborious work of polishing it to be read by others.
After being gone for six days, Eric and the girls came home and I had to completely put away my writing. I find it too difficult to try to exist in two worlds at the same time, the world of words and the world of reality. I saved my work, backed it up in the cloud and on hard drive, and turned my attention to the three people I love most.
A day after returning, Eric was back at another SAR training. The girls I enjoyed a brisk lunch outdoors on our deck. It was a cool 46 degrees Fahrenheit, but that's what they make jackets for, right?
I took these photos on May 13. Yes, all that snow was around on MAY THIRTEENTH.
It snowed for the rest of the weekend after we had our chilly al fresco dining experience. The morning it stopped snowing, I drove home to see bear tracks clearly going up and over the snowbank in front of my house. Mammoth is never boring. I'll give it that.
We spent the rest of May spending as much time as we could as a family and as much time as we could outdoors.
Though snow was still everywhere, plenty of places had melted enough for us to get out and stretch our legs too.
This was the snow berm in front of our house on May 20th. Still high, but warm enough for shorts and a sun shirt!
One weekend we decided to hit some local 4x4 trails behind Shady Rest Park. We eventually got stuck in some muck, but Eric was prepared for that and we were moving about 40 minutes later. He wrote about it here on his blog.
I don't know what it is about watching Eric do manual labor. This would only have been better if he were in a t-shirt or shirtless.
Here he is with an axe. You're welcome.
After getting us unstuck, he then administered first aid to L's little cut. I love a man who can do hard things and soft things.
On Memorial Day weekend we decided to throw caution to the wind and go ahead and plant some seeds. We're pretty dang sure it won't get past freezing anymore. Now we just have rabbits and mule deer to fight off. I keep trying to prep the kids for these plants to not make it...
I kept some succulents inside all winter and now I'm bringing them out during the day on our upstairs deck.
They were hardy enough to survive a Mammoth winter with indirect sunlight in a room that was only heated at night. so hopefully they'll be happy with some summer sunlight and warmth.
Every day gets progressively warmer and we find ourselves sitting, eating, and just being outside as much as possible.
I'm ready for June now and all that a Mammoth summer has to offer. Here's to a fast snow melt, bears staying away, and more time to write.